East Valley Styles Barbershop
Our Babershop serves the Resisdents of Queen Creek, San Tan Valley, Chandler, Gilber, Mesa Arizona and their Familes
We Cannot Book By Phone Please Use the Book Now Button!
Welcome to East Valley Styles Barbershop – Your Ultimate Destination for Trendsetting Hairstyles!
Located in the heart of the vibrant East Valley, our barbershop serves the diverse grooming needs of residents and families in Queen Creek, San Tan Valley, Chandler, Gilbert, and Florence. Here at East Valley Styles Barbershop, we believe that a great haircut is more than just a routine grooming experience – it's a statement of individuality, a confidence booster, and an essential element of personal style. We're passionate about helping our clients express themselves through the coolest, most up-to-date, and trendy hairstyles.
Our skilled barbers are masters of their craft, with extensive experience in a wide array of styles, ranging from the classics to the contemporary. Whether you're looking for a stylish taper cut, a bold afro shape, a fierce mohawk, a timeless combover, or a sharp taper fade, our team of professional barbers has you covered. And that's not all! Our repertoire also includes hightop fades, skin fades, senior cuts, beard trims, edge-ups, afro cuts, and more.
At East Valley Styles Barbershop, we understand that each client is unique, and we're dedicated to providing personalized services that cater to your specific needs and preferences. Our barbers take the time to consult with you before every appointment, ensuring that you receive the perfect cut that highlights your best features and complements your lifestyle.
When you step into our barbershop, you'll immediately feel welcomed by the warm and inviting atmosphere. We pride ourselves on fostering a relaxed and friendly environment, where clients can unwind and enjoy their grooming experience. Our spacious, modern, and well-maintained facility is equipped with state-of-the-art tools and products, so you can trust that you're receiving top-notch service every time you visit.
But don't just take our word for it! Check out our gallery to see some of the incredible transformations our talented barbers have created, and read through the glowing testimonials from our satisfied clients. We're confident that you'll be inspired to make East Valley Styles Barbershop your go-to destination for all your grooming needs.
As a family-owned and operated business, we believe in the importance of community and strive to give back whenever possible. We're proud to support local organizations and events, and we regularly host special promotions and discounts for our loyal customers. Be sure to follow us on social media to stay updated on our latest news, offers, and events.
Ready to join the ranks of our fashionable clientele? Booking an appointment at East Valley Styles Barbershop has never been easier. Simply visit our online scheduling platform, choose your preferred barber and service, and secure your spot. Walk-ins are also welcome, and we'll do our best to accommodate you as soon as possible.
Thank you for choosing East Valley Styles Barbershop – where style, precision, and community come together to create the ultimate grooming experience. We look forward to meeting you and helping you achieve the fresh, stylish look you've been dreaming of!
Book Your Visit Online
You Can Now Book Your Next Visit Online!
Mobile Barbershop
We are thrilled to announce East Valley Styles, LLC's latest innovative venture – the CutBus! As a premier luxury mobile barbershop and salon, the CutBus brings the best of traditional barbershop and salon services straight to you, wherever you may be. From expert haircuts and styling to exceptional coloring services, we've got you covered.
The CutBus combines the timeless appeal of a classic gentleman's barbershop with the contemporary flair of today's trendsetters. Our state-of-the-art mobile facility is equipped with three hair stations, an independent water source, and electricity, ensuring that you receive the same top-notch service you've come to expect from East Valley Styles.
To further elevate your experience, we've handpicked a selection of high-quality, sustainable, organic, and effective luxury products for use during your appointment. These exclusive offerings reflect our commitment to providing an unparalleled grooming experience that not only leaves you looking great but also feeling great about the products you're using.
When you step aboard the CutBus, you'll be transported to a serene oasis designed with your comfort and satisfaction in mind. We offer a variety of refreshments, play tasteful music, and strive to create an ambiance that feels like a personal retreat. The CutBus is perfect for any event, big or small, and caters to all your party needs with style and sophistication.
Don't miss out on this unique, one-of-a-kind grooming experience. Book your appointment with the CutBus today, and let us bring the luxury of East Valley Styles, LLC directly to you!
Our Barbershop Services
At East Valley Styles Barbershop, we cater to the grooming needs of the entire family, offering a wide variety of haircuts and styles for men, women, and children. Our expert barbers and stylists are adept at creating the perfect look for every individual, whether it's a classic men's cut, a chic women's style, or a fun and practical haircut for kids. We understand that each client has unique preferences and needs, and we pride ourselves on delivering personalized services that will leave you and your family feeling confident, stylish, and well-groomed. Experience the East Valley Styles difference, where we bring together skill, creativity, and exceptional customer care to create the ultimate hair-cutting experience for everyone in the family.
Jay the Owner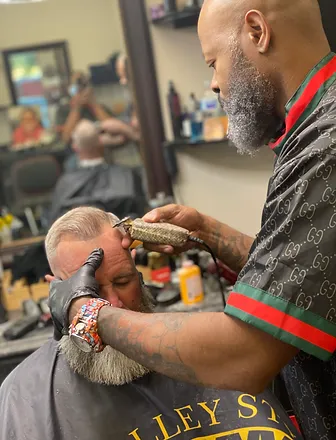 Dear valued clients and friends,
As the owner of East Valley Styles Barbershop, I am deeply humbled and grateful for the outpouring of positive reviews and support we've received from our incredible community. Your kind words and testimonials are a testament to our team's dedication, and they inspire us to continue striving for excellence in everything we do.
I want to take this opportunity to express my heartfelt thanks to each and every one of you. Your satisfaction and trust in our services mean the world to us, and your loyalty and patronage have played an integral role in our success. It is truly an honor to serve you and your families, and we look forward to continuing to provide you with the exceptional grooming experiences you've come to expect from us.
I also want to extend my deepest appreciation to our talented team of barbers and stylists, whose passion, skill, and unwavering commitment to customer care have made East Valley Styles Barbershop the go-to destination for top-notch haircuts and grooming services in our community.
Once again, thank you for your support, encouragement, and faith in us. We remain committed to delivering unparalleled service and fostering lasting relationships with our clients. Here's to many more years of great haircuts, styling, and grooming experiences at East Valley Styles Barbershop!
With warmest regards,
Jay Owner, East Valley Styles Barbershop